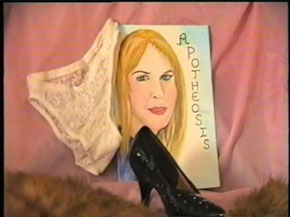 "Pantiesism - Apotheosis - The Lifestyle"


Closeness



Being intimate with the man or woman we love is sometimes more difficult than we would like. Apotheosis helps. It teaches us gentleness and a heathy loving respect for each other. We are not totally responsible for
each others happiness. Given. We compliment, and add to the contentment of our partner.


---
---
---


Depth In A World Of Increasing Shallowness



Apotheosis is intense, encouraging us to go deeper within ourselves. The answer lies there untapped and not as some would suggest, in the world outside.



---
---
---


Trust



Past disappointments and hurt weigh us down metaphysically as in real life. Trust is earnt, as respect is. A Panty Slave learns to trust his Panty Mistress to kindly guide him - Little One intuitively allows her Panty Master to
lovingly mentor and disipline her if necessary.



---
---
---


Realms Aplenty



All elements of sensuality, sexuality and spirituality dwell in Apotheosis. From the high minded haunts of A Panty Princess or a Zen master, to the sultry earthy lust of a Panty Serf and his female companion, a Little Panty Teaser. Apotheosis caters to every state that can be felt and imagined, except those that have hatred in their hearts. In Apotheosis no morality exists, only low energy activities, uplifting to higher energy activities and thoughts in the hallowed canons of the souls outpourings.



---
---
---


Hierarchy



Hierarchal systems have received bad press, mostly because the people that often hold such positions are incapable and incompetent. Apotheosis is modelled almost totally on this platform, a structure itself that has a qualitive foundation and the facility to reward the capable. We find our own niche in life.



---
---
---


Spirit Versus Sexual



Much has been written, debated and philosophized about this apparent chasm in parallel conditions. The spirit remains aloof in lofty abodes relegating sexuality to a soiled lower level. We aim to unite them.



---
---
---


Lust



Who among us can say we were not born out of lust, albeit within the context of a loving relationship? Why do we see fit to demonise a human state?



---
---
---


Role Play Examples



Both Panty Master and Panty Mistress have an exciting responsibility in the welfare of their protege'. Little One adores her Panty Master, subservient, and in awe and reverence at his feet, longing for his consideration and love. Has she earnt his kindness and wisdom?
A Panty Slave loves a woman's panty crotch. Noble indeed but he must be educated to elevate himself to unselfishly please his woman. A Panty Mistress's task is to gently wean him off a panty crotch preoccupation , allowing him to totally love her, thus providing for her every, need, whim and indulgence. A Panty Mistress may visit his pleasure but her upliftment to higher areas ultimately rests in helping him expand in being.



---
---
---


Panty Devotee



If male and a devotee of panties or women in panties, Apotheosis is for you. You may be quite happy with panty tease and aspire to nothing further. The panties are a gateway into pussy of course, or an ever expanding horizon of possibilities. Passing the panty rack at the supermarket will hold novel potential.



---
---
---


Varied Planes



There are varied planes; sexual, sensual and spiritual, intellectual, emotional you can play Apotheosis on. Each realm has similar characters with higher or lesser values in their essence. A "Panty Master" is a lower incarnation of a "Master". It is breathtakingly dynamic, intense and exciting. There is heaps of sensuality and sex in the lower realms of Apotheosis. Icing on the cake often enchants and invites us into regions normally we would seldom travel. Lust and instant pleasure relent to the higher pursuits and outlooks in upward strata's. This mirrors human progress.



---
---
---


Boundless Imagination And Good Verbal Skills Will Aid You



Men and women 'of letters' will be lost in nuances in Apotheosis. You can dwell only in a spirtual domain. Players require the skill and ability to creatively adopt each personna, to locate their ideal level.



---
---
---


Free Access



Buy 8 DVD-R at Pantiesism, grants you automatic free entry into Apotheosis, as a "Panty Serf"
naturally enough in search of a "Little Panty Teaser" You MUST request Apotheosis with your DVD-R order.



---
---
---


Monthly Updates/Feedback



Those people that buy access to Apotheosis, you will receive full details, and also monthly updates. We are approachable for advice and request people playing, plenty of feedback.



---
---
---