British Bombshells 1 DVD
; panty teasers, young and gorgeous; sweet panties and pristine pussy. Fay, Jo and Leah are each filmed separately in twenty to twenty five minute vistas. Heaps of panty rubbing, panty sniffing and sucking. They just love panties and they love to have wet panties for you. All are adapt at panty teasing which ends in masturbation. Leah even inserts the panties up herself.


Our panty tease opens with Fay in red silky panties, crotch and ass views. She has lots of pretty panties to choose from. Would you like to help her? "I love wearing panties." Fay has a lovely selection of panties in a clear plastic bag, including pink panties with the red text of 'Spank Me' emblazoned on them.
Strips of the red silky ones - smells them. "Might be able to buy these after I've worn them,"Then she attires herself in the pink panties. "Nice Spank Me Knickers." She parades in them, pulls the gusset aside for your treasured shaved minge peep, turns and lets your share her succulent ass h**e. Then white lacy panties. Many views of her pussy as she puts them on. "You can see through them a little bit too!"She gives you a look at her naughty nookie. "These panties make me so horny, I just want to play with my pussy!" Masturbation - caressing, pink slit, long fingers into her, fingers inside the panties on cunny. "My Pussy - all wet!" White panty up skirt views then from looking up from the floor, back and front views. White panties off, "Little Baby Doll Knickers." White panties off, yellow panties on. Sexy high heels and panties over them for her to wear. "Nice smelling knickers. They smell so sweet, know you'd like to smell them." Love her delicate, long slender fingers inside her panties. Different view, high heels, while she rubs in 'there'. Plenty of rubbing that sweet wet twat. Close up! "Want to see my wet pussy?" Clear look at her cunny lips. "Can't wait to come all over my panties." You must sniff your panties and indeed she does! Light lilac panties. Bottom views from behind. Off comes her top and bountiful breasts, while frigging her pussy inside her panties. Get into that pussy Fay. Another sensuous lingering view of panties pulled back and her luscious box...
"A penchant and passion for pantied pussy."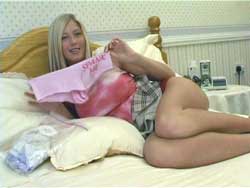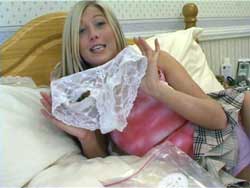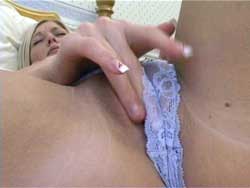 Jo likes to show her little white panties off to you. "My fingers are just about to slip in." She's a dirty girl so her white panties suggesting purity are quite inappropriate. "I am a naughty little girl" White panty tease. Pulls her skirt up to show them from behind. Rubs her panties at the crotch, front glimpses. Jo also runs her fingers inside too. Jo gets into her favourite sex position. "You're thinking - Jo you're such a tease!" She pulls up her skirt "Warm pussy!" You might fancy me in a different pair of panties." and she pulls them partly off. Jo knows you like her legs in the air and she sniffs the panties and even licks them. "Yes I have been wearing these all day - and yes they do taste nice!"Black panties and Jo's lovely red painted finger nails know just what to do. She gets the panty into a strip to encourage the tightness against her vagina. "I am a member of Pantiesism myself." She slides her hand under her black panties, then pulls them aside massaging her pussy, faster as her breathing becomes increasingly heavier. "Poke me - play with me" Down come her panties, just above her knees and she touches her pussy. Back view. Black panties off and brought up to her nose for a good sniff. A Clit stimulator, to her pussy under panties, with panties pulled aside, back and front peeps, a generous prolonged viewer perv. "Look how excited I got." and Jo parades her wet panties, straight from her hot wet pussy. She licks them. Panty adulation...
"A penchant and passion for pantied pussy."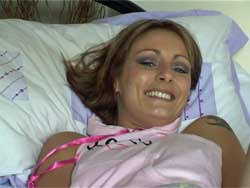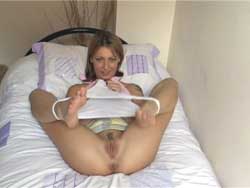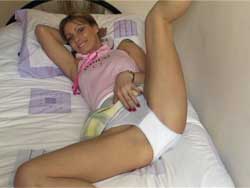 "Can you see the gusset?" Leah enquires. Front and back views. "Smell of Leah's panties!" A panty change. "Pretty in Pink." Leah loves full panties. "More a surprise when you rip them off." She sniffs and licks the panties she has just discarded. "Taste the juices would you like a sniff?! Panties, Panties, Panties." in an English dialect that really will get your cock going. More sensual licking and smelling, while she rubs the new pair on, into her peach of a pussy; with panty acknowledgement you wish all girls would do! Her fingers are now deep inside her panties caressing her "Little Pussy" (her own description). She strips out of them and you see a young British lass up close with an ever tempting beaver. Next its white panties up her! "Panties in the Pussy." mmmmm indeed Leah! Pulling them out, her tongue licks them, slowly making sure that all her juices she tastes. Again white panties up her vagina. Smell and lick again. Her quim by now is gloriously displayed with beautiful pussy lips that beckon and pout for a cock. Leah's fingers are finger lickn good and they find her luscious mouth.
Leah attires herself in "Polka Dot Panties For Pussy." Lots of bum views from behind as she pulls the gusset aside and gives a little peep. She playfully spanks each bottom cheek. She wants to come in these panties and then lick them dry. Many up close shots of her wet and wanton vagina. In and out she masturbates on her minge. "Suck em and See" and "Now stiff those." she teasingly demands. Panty Adulation. Loving the wet panties Leah sniffs deeply and bites them ravenously. "Peepo" What have we here. Such Lovely little Pussy."...
"A penchant and passion for pantied pussy." (Dialogue sound track - includes dynamic menu of scenes - (Duration Fay (23 minutes) + Jo (24 minutes) + Leah (24 minutes) = (70 minutes) Buy Now!!