British Bombshells2 DVD. Amy, Sofia, Wendy and Lorina. (below) ( 16 minutes to 19 minutes each.) (One hour and 12 delightful minutes of indulgent panty tease.)


Amy stands before you, smiles, lifts up her skirt teasingly to show pretty see through panties which she adjusts and puts her hand inside. Her moans reach audible levels as the panties are wedged up her. She looks at you so innocently that you'll wonder if butter would melt in her mouth, let alone pantied pussy. And you'll want to both protect and screw her simultaneously. Heaps of naughty tease, with gesticulations of lips and tongue and probing looks. Ass views next. Panties pulled tight up her bottom, and then moved aside so her bottom cheeks are aired. On to the couch; front view, legs so lovely, brought up. then spread, together again, while she continues to rub her panties and then fingers inside. As her pussy's so damp, an aid for even more pleasing views. Enjoy our picture sequence of Amy divesting herself of her panties.
Amy teases a lot, pulling her panties tight against herself and panties come off and inserted inside her, retrieved with one of her heel stilettoes. Put your DVD in 1/8 motion to prolong this immaculate nuance of Pantiesism. Panties are smelt, and now dispatched to the lucky first purchaser of BB2...
"A penchant and passion for pantied pussy."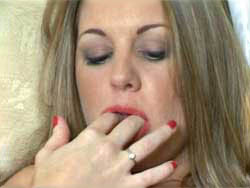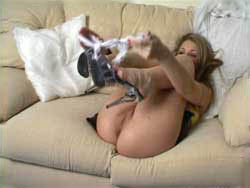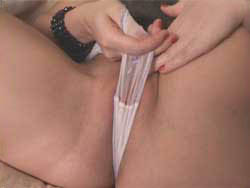 Sofia stands, passively lifting her skirt up slightly, front and back appraisal, talking and teasing. "More" printed on her top may allude to the quest for wanting more of her panty and coincide with your wishes? A guessing game of colour and style of her panties introduces herself to you. "Do you think they are soft like cotton?" She lifts up her skirt for the answer. A panty tour ensues. "Such a snug fit, my panties." Sofia continues, taunting you with comments about her "baby blue" panties softness and your wish to touch them. Not only will you be dribbling at the mouth!

Lying on the bed, she does some upskirt teasing. We stay tight on her pale blue panties, shapely legs and cute ankle socks - close and intimate. Legs in the air for closer panty peeps. Her top comes off and she massages some lotion into her legs. "Do you want to feel them...grip them...tease them?" Do you like the colour; baby blue; young, innocent, cute!" Quite a lot of tease talking too while you get to gaze at her panties. Ample pantied ass scenes too. Tired, she tells us to go away and vows that if we don't. we won't get to see any more panty on another day. Sofia know that her panty are precious and need to be rationed...
"A penchant and passion for pantied pussy."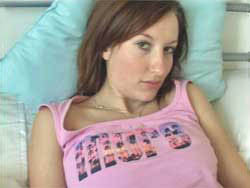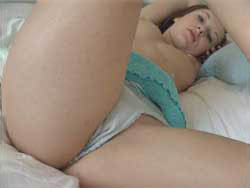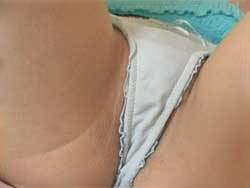 Wendy attired in pink see through top, black tartan skirt, black shoes and transparent pink panties that partially conceal the beauty of a pretty shaved pussy. On the bed, "I hope you can see through my top because it is very see through and fits very tight! If I lift my leg up you can see my panties which I have got on as well!" Nice pink panties which fit really nice ...and very, very tight." Plenty of panty; "Just teasing a little...rubbing my hands up - which look really nice for you...tugging on them so they move to one side!"Result sensuous shaved pussy! When she rolls over you appreciate her bottom. "They hug my bottom really tight!" Panties pulled aside. She bends over on the bed and positions herself, as if, to be either gently spanked or screwed or perhaps both!
Facing you she "Shucks" off her top, for bare bosoms - Sucks on her little pinky finger. No not what you just thought! Wendy has been neglectful and has to look for some things in her bag, ensuring that you get to see her panties under her short tartan skirt, all the while her educated English lady's voice gently consoles. Kneeling. "So you can have a better look!" The tartan skirt is hitched up showing her pink panties but alas; "I cannot find what I'm looking for!"
"My panties are very tight across my bottom!" 'Bottoms up!' "I just love teasing in my panties!" She tugs them to one side for more defined ass peeps. Topless views, frontal, pink panties that have a slightly thicker gusset. Close UPS follow of what you'd love to be UP. "If I pull them really tight and then to one side! Bet you wish it was your hands rubbing over my pink panties!" Legs vertical prestige a vertical smile, as if wanting to be loved and to stir your cock even further she takes them completely off. Hot wet pussy - the greatest perfume in the world. as she spreads, Wendy puts her discarded panties over her nose and mouth, savouring her special scent. "They smell just of ME!"...
"A penchant and passion for pantied pussy."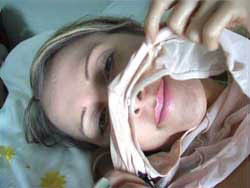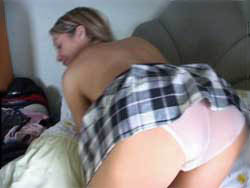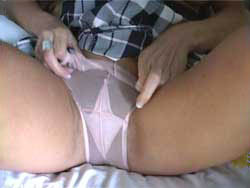 Lorina presents herself with blonde hair, blue top, naughty red and black tartan skirt, very hairy bush sheathed in pale pink panties, gorgeous legs and black boots to bottom herself off. Lorina is displayed from the front and from the rear as she adjusts her panties. Pulling them up her bottom, they playfully conceal her hirsute pussy. Neatly, she unbuttons the white buttons of her blue blouse, and her breasts sheathed in a skimpy white bra greet you. Her bottom cheeks make their presence felt as she bends to dutifully accentuate them! Like gravity her panties must come towards Earth! Some laws are immutable.
Sitting On the couch, crossing her legs which if you love legs will extend you beyond you present situation! Tartan skirts bare legs and black boots do go well together. Playing with her breasts, she takes the nipples out of her bra. kneading her breasts. Eye contact; breasts now out and about! Reclining on the couch showing; breasts, panties and more of that hairy bush which has the habit of finding its way outside her panties. "I just love teasing you!" Panty maneouvering while always keeping you expectant - she is very hairy down there. "I hope you like these panties!"Panties almost down - gander at hairy pussy. Then much closer with her lips evident, through the dark tuffs of hair. Lorina repositions herself on the couch. "I hope you like my bum!" and she kneels, the panties worn so they barely cover the crevice of her ass - the tartan skirt still in sight. Panties even more narrowly interplay with her backside. The finale; black boots, panties spread totally. as she fingers her pussy from behind as her moans reach a soft crescendo... ...
"A penchant and passion for pantied pussy." (Dialogue sound track - includes dynamic menu of scenes - (Duration Amy (17 minutes) + Sofia (20 minutes) + Wendy (17 minutes) + Lorina (17 minutes) = (72 minutes) Buy Now!!
A m b r o s i a f o r y o u r p e n i s