A compilation DVD of some of the clips at Clips4sale, though higher quality. Includes panty sniffing, inspections, stuffing, and our stock in trade panty tease.


Barbara bends over in her car and her white panties hug her bottom; an h'orderve to a main course. The introduction of looking up her skirt, begins, as she walks to the filming venue, and is supplemented, as she climbs the stairs. White panty...
"A penchant and passion for upskirts and pantied pussy."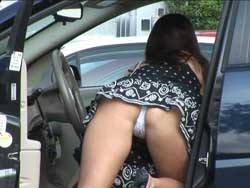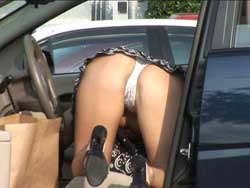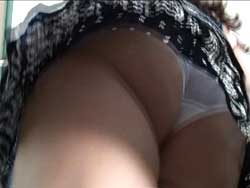 British Bombshells 1 DVD; panty teasers, young and gorgeous; sweet panties and pristine pussy. Fay, Jo and Leah are each filmed separately. Heaps of panty rubbing, panty sniffing and sucking. They just love panties and they love to have wet panties for you. All are adapt at panty teasing which ends in masturbation. Leah even inserts the panties up herself...
"Do you like to look up my skirt? I know you would," Fay ponders. Our panty tease opens with Fay in red silky panties, crotch and ass views. She has a lovely selection of pretty panties to choose from in a clear plastic bag, including pink panties with the red text of 'Spank Me' emblazoned on them. Would you like to help her? Strips of the red silky ones - smells them. "Might be able to buy these after I've worn them." She does a quick spiel about all the lovely ladies and their panties at Pantiesism. Fay pulls the gusset aside for your treasured shaved minge peep. Strips of the red silky ones - smells them. "Smells good. You never know, you might be able to buy these just after I've worn them!"...
"A penchant and passion for upskirts and pantied pussy."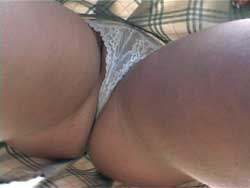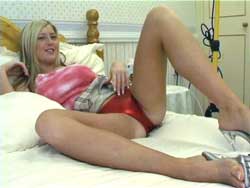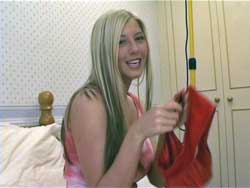 Jo likes to show her little white panties off to you. "My fingers are just about to slip in." She's a dirty girl so her white panties suggesting purity are quite inappropriate. "I am a naughty little girl" White panty tease. Pulls her skirt up to show them from behind. Rubs her panties at the crotch, front glimpses. Jo also runs her fingers inside too. Jo gets into her favourite sex position. "Bet you really wish you could actually see what's under these panty."...
"A penchant and passion for upskirts and pantied pussy."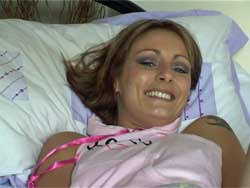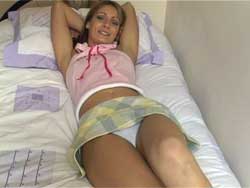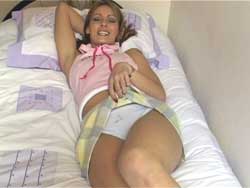 She rubs her white pantied ass and considers you doing similarly. "How's about. I change my panties, and smell, - rubbing all over my pussy. Panties in Pussy!" Leah takes off her white panty and strokes them against her pussy. This stimulates her and also makes the smell and taste of her vagina even sweeter. Then as she alludes too - "Panties in the Pussy!" Lovely white ornate panty being slowly inserted into her peach of an English pussy, just like a cock making its lustful insertion...
"A penchant and passion for upskirts and pantied pussy."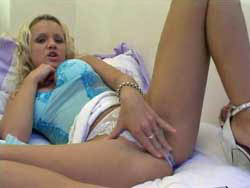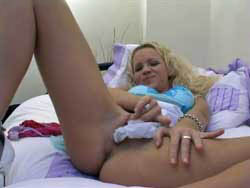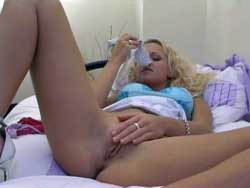 What is this lovely brunette panty teaser, Deejay going to do with lots of panties on the bed? Answer; enjoy wetting them out for you with her lovely productive pussy. Your penis will yearn to spurt for her panty, and on her pantied veiled vagina, as she describes and relates her panty. "I'm thinking how wet I can get these panties. Maybe I can set a record today. Let's see how many pairs I can soak through." - a feat of panty soaking few women will ever equal, let alone attempt to better! "Right now you are thinking how shaved is she?" She thrusts her panty crotch forward and her previous statement will be within the lust of your cock. The mammoth heavy duty white vibrator really gives her talented pantied cunny, a real work out - designed to sate a greedy puss puss, coupled with her finger f**king of her tender clit through the panty fabric. She also "opens up" and shows you her "C**t on the hunt"; the source of all the lovely wet stains on her panties...
"A penchant and passion for upskirts and pantied pussy."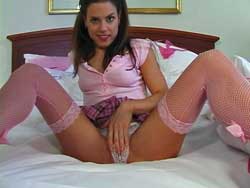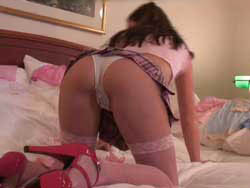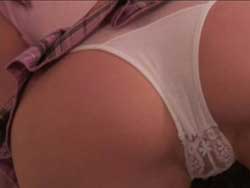 Jewel sits on the floor and parades in a denim skirt and black stockings; an entree into tonight's menu. Close up on those tight white panties. "Shall I tease you a little more. Do you have the hardest dick you have ever had? I wish that was your cock in my mouth!"...
"A penchant and passion for upskirts and pantied pussy."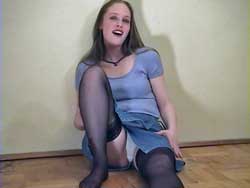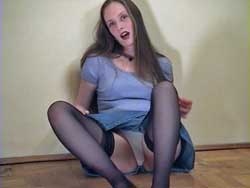 You'll love 18 years old Kristy who lives with her boyfriend. There is a very good scene of her naked sitting on top of Robin, Nostalgic's dvdographer, and he strips of her bra. Young, attractive and Kristy has a very bubbly personality, (a lovely smile)...
"A penchant and passion for upskirts and pantied pussy."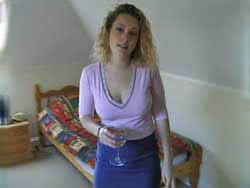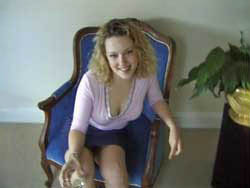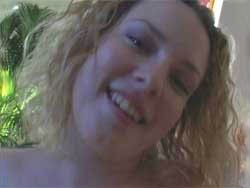 Pantiesism web site comes in for some playful scrutiny, as she monitors us on her computer, making comments about some of the other lovely models available and the panties that they wear, totally at home with your need for panty. She notes her friend, Ashton's involvement and isn't surprised to read on one of Ashton's DVD reviews, that she wants to tease cocks. She smells and sniffs the panty that she has been wearing, after removing them, in an elaborately erotic ritual. "My pussy juice all over my panties. Would you like to smell my panties? You'd like to lick my panties!"...
"A penchant and passion for upskirts and pantied pussy."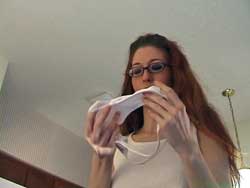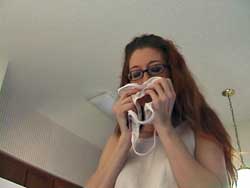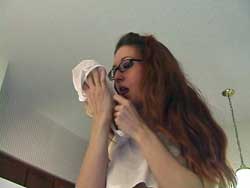 Suzie, (not shown in this volume) Jo and Tia really get into far more, than just everyday business, unless it consists of panty and pussy. Jo regards Tia's panty as her own personal property and treats them, like she would, her own panty. Lots of lesbian type tryst's. Jo teaches and seduces Tia into the pleasure of perfumed panty and power lusting pussy.
Jo' "lets down her hair" and gets into herself, with panty sniffing and masturbation : Jo' likes the scent of a women's used panties too. She obtains a pair from her roommate Tia's clothes hamper and finds some worn panties. She then studies each in turn, locating the most pussy enhanced scented, part, inhales. "They're dirty." She loves that scent and surely could master in the subject of Used Panties, if it ever became a University Degree. "That scent is gorgeous - so girlie. Such a beautiful smell." Despite polite decorum she takes Tia's pink panty and places them against her own needy panty crotch and panders herself. Then she sniffs Tia's panty while massaging on and in her own panty crotch. Tia catches her in the midst of her climax, standing transfixed at the door, not sure of an appropriate response...
"A penchant and passion for upskirts and pantied pussy."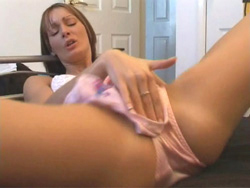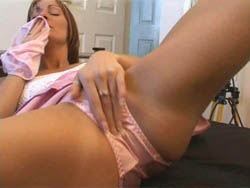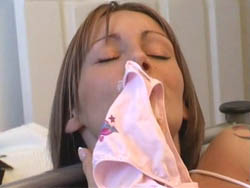 Jo' and Tia share their love of panties, intimately together. Jo's attire: Short, tight skirt, more provocative than conservative Tia's attire: Longer skirt, less liberated. They both sit facing each other. Jo' tells Tia about her day while carelessly opening her legs and giving Tia peeks of her panties. Tia, who is shy and conservative, is slightly embarrassed, but is attracted to Jo's panties. Jo' notices this and gives Tia more obvious views until she finally asks Tia if she enjoys looking up her skirt to see her panties. Tia is embarrassed but admits that is naughty but a little exciting. She then discloses that she saw Jo' with her panties and asks her what she was doing. Jo' explains her long passion for panties and the arousal of a woman's unique scent. Tia asks Jo' if she enjoyed her scent. Jo' then explains and asks Tia if she would like to part her legs. After Tia accommodates, Jo suggests they satisfy Tia's curiosity by touching themselves while looking at each other's panties.

Jo invites Tia to the bedroom and in Tia's bed, Jo' asks Tia if shes ever experienced the scent of another woman. Tia explains only her own but would like to try Jo's scent. Jo' removes her wet panties and gives them to Tia who carefully inspects them, remarks how wet they are and tentatively inhales. This gets more intense as Jo' starts to play with Tia's pussy. Both get very excited and share Jo's panties. Tia then takes off her own panties and gives them to Jo' who enjoys the scent also. They then disrobe completely. Tia then states she would like to do something daring. She asks Jo's permission then touches Jo's pussy and inserts a finger. After getting it wet she withdraws and inhales the wetness and puts it in her mouth. Jo' is excited by this and does the same to Tia. They both masturbate each other while kissing and climax...
"A penchant and passion for upskirts and pantied pussy." (Dialogue and music sound track. - includes dynamic menu of scenes - (Duration Barbara (6 minutes) + Fay (3 minutes) + Jo (2 minutes) + Leah (3 minutes) + Deejay (6 minutes) + Jewel (6 minutes) + Kristy (6 minutes) + Tammi (8 minutes) + Jo (7 minutes)+ Jo and Tia (16 minutes) = (67 minutes) Buy Now!!
A m b r o s i a f o r y o u r p e n i s