Panty Lez introduces its enticing wares; ladies who love other ladies. They kiss and ensure that each other used panties are moist and if not they masturbate and rub the panty into their partners pussy. And as you can see below, these women are really into pantied pussy and the contents therein. They love this as much as you do! Whether its panty retrieving with panties in her mouth, dangling these over a woman's pussy, or getting into beautiful vagina, you'll enjoy this lesbian panty play.


Julietta left and Corrine right, have fun and games on the bed. Their kisses naturally turn into more heated contact with each other. Julietta teases Corrine's pussy through her panty's, caressing and massaging her. The lure of Corrine's puss-puss finally lures Julietta's hand in between the panty fabric. Kissing intently, Corrine gets her turn at Julietta's patterned panties, kneading them, taking pleasure at Julietta's lust expressed in the feminine moisture. She looks like she wants to mount her - translating, to when a guy would slip Julietta a length. Then inside Juliettta, and the panty delicately veils.
Corrine's panties are down on her thighs and Julietta's rubs Corrines's unshaved box. Then Julietta's panties also are half mast, as Corrine makes the most of that shaved unpantied slit. The panties remain on these ladies legs so you get flesh, panty and pussy. Great camera angles also enhance their love making. Masturbating "kissing cousins". They swap panties and "juice up" so they really are pussy pals...
"Women who love pantied pussy as much as you do."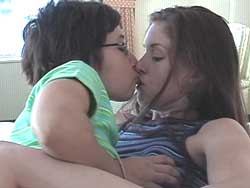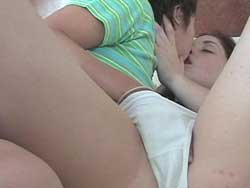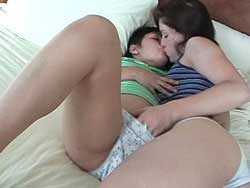 Madison in red top and Kaitlynn break in a new DVD camera in a lovely way to toast each other - pantied pussy. Kaitlynn's breasts are first revealed and in a red pair of panties, she really makes a statement, mostly pussy talk, as she plays and pouts to frig her vagina. Close up masturbation. Madison does the filming honours. Then Kaitlynn has her turn and Madison, strips her bra off and continues her self expression exposure, now topless, and a close up on her green panties, (covering her crotch) which find their way to her mouth. Smiling radiantly and laughing, she is really having a ball, in the feminine sense of the word. Then she massages her wet portal.
Madison smiles, dangling her panty's over her own crotch. Kaitlynn takes Madison's green panties and rubs them into Madison's pussy, like a lovely panty quality control officer, ensuring there is sufficient damp perfume on the panties. Madison shucks off Kaitlynn's panties and puts them in her mouth, well trained in the art of retrieving the important things, dangling them hypnotically over and against Kaitlynn's cunny. Still in her mouth she rubs them into Kaitlynn. Then the entire scene is more or less repeated from different camera angles. Kaitlynn really gives her panties and then undiscovered territory beneath them, a real work out.
Just think of panty and panty being pulled aside, ladies laughing at their own soaked wetness and saturations in panties...
"Women that love pantied pussy as much as you do!...
(Dialogue sound track - includes dynamic menu of scenes - (Duration - Julietta left and Corrine (30 minutes) + Kaitlynn and Madison (31 minutes) Total Duration = (60 minutes) Buy Now!!

N e c t a r t o m a k e y o u n e e d y