"A Panty Fantasy" What a panty tease! Voija gives three completely different styled panty teasing, in twenty minutes segments, that compliment each other, commissioned by Panty Trader, Tease Tapes, and Pantiesism.

The first part made by Panty Trader: Voija wears a tee shirt and white panties with their monogrammed message on them. She dances and parades in these, front and back and does the "cock jack off" motion right over her panties! Lots of white panties peeps. Voija pulls the white panties tight up to her pussy from the front and then does a complete strip. She knows that you want her panties to smell and savor which she holds over her breasts and pussy. She has complete control over your cock and its' love of panties, and teasingly exploits this. Her luscious long hair also invites a "cream rinse"...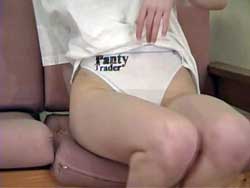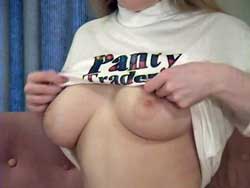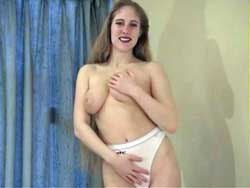 The second part; written by Tease Tapes, (now part of Pantiesism), has Voija reading a magazine and asking the viewer if they want a look up her skirt. Her panties are cotton, white just as you love them. You get ample opportunity to make an extended study of her panty crotch. Later, standing, in a see through pinky top, black skirt and black stockings, she slowly lifts her skirt to allow you a squizz at her panty crotch, nestled there. Various tease routines ensue with the last scene - complete pussy peeps with her panties pulled down. And then her beautiful hair and bottom from behind. On to the couch and peek a boo. Will she open her legs so we can see pussy?...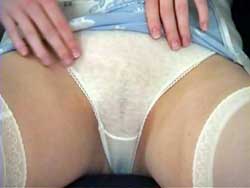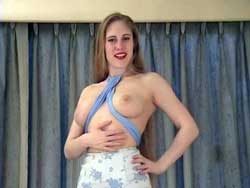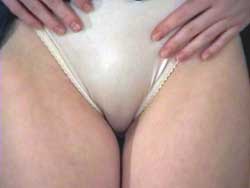 The third montage, commissioned by Pantiesism; Voija has her legs spread in the air as if waiting for you inspect her panties or screw her. Voija talks about the panties she wears and how she thinks it is naughty to want to smell them. Her panty clothes line will be a treat for you and the way she talks about "her c*nt" (her words) in the panties will also please. "Apple Panty Delight" where she rubs some used panties onto an apple, and then takes a large bite will make you long for apple pie. Panty dipping or more correctly wet panty retrieval with Voija really rubbing the panties into her soaking wet pussy - "her c*nt" (again her words) will keep you amused. Voija also explores the business opportunity of setting up a Used Panty Emporium with a stable of beautiful women. Order now and cum with Voija any time you want..
"A penchant and passion for pantied pussy." (Dialogue sound track - includes dynamic menu of scenes - Duration 60 minutes ) Buy Now!!

A m b r o s i a f o r y o u r p e n i s